Natalie Wickam, author of Pajama School: stories from the life of a homeschool graduate, is having a fun contest with a great prize!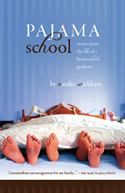 She wants you to make your own 30-60 second video advertising her book.  She'll choose the best one, and the creator will receive either tuition to  Vision Forum's upcoming filmmakers boot-camp in February, or a family pass to the 2010 San Antonio Independent Christian Film Festival.  Either one is worth hundreds of dollars!
You can find contest details here: Pajama School Contest
If you're not familiar with the book, read the first chapter online.
Ready to get started on your video?  A very limited number of specially discounted copies are available, or you could win one below.   Hurry, though – we'll be choosing a winner for this giveaway very soon!  Natalie's contest is open through October 30, and we want our winner to have a copy in plenty of time to make a video.
5 WAYS TO WIN A FREE COPY OF PAJAMA SCHOOL from Life in a Shoe:
Leave a comment to enter once.
Blog about the book to enter again. Please be sure to include a link to this post. Feel free to use the banner. Just come back and leave a second comment to tell us that you blogged it.
Twitter about the book. Please leave a comment to tell me if you tweet this.
Buy a copy of Pajama School directly from Sibro Publishing to be entered again. You can use this special coupon code to receive 20% off your order when you checkout: inashoe.  Leave a comment with your order number to let me know.
Grab the code to put a Pajama School banner in your own sidebar (http://www.pajamaschool.com/blog/spread-the-word/) and leave a comment telling me you did it to enter yet again.