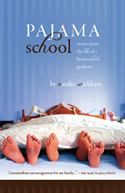 comments are closed on this post
We did our best to choose a winner randomly, but any Christian knows that Somebody is in control and there's no such thing as random.  That's why I was delighted but not a bit surprised to find that the winner of last week's giveaway for a free copy of Natalie Wickam's Pajama School is
I would love to win this! I would also love it if anyone that reads this would pray for me as my husband and I consider homeschooling our little ones who are not yet school age.
Thank you to everyone who entered, and please remember to keep Tracey in your prayers.
Don't forget to enter Natalie's fun and creative film-making contest to win a free pass to the San Antonio Independent Christian Film Festival, worth hundreds of dollars.  What a great homeschooling project!
---
Next up: 
Charlie's Soap
. 
We're thrilled to be using Charlie's Soap again after a brief excursion into making our own.  Homemade was fun and easy, but as it turns out it does not work well in hard water, nor is it recommended for cloth diapers.  If you have either, get thee some Charlie's Soap pronto.  It's quite possibly the cheapest zero-residue laundry detergent on the market, getting things truly clean without a lot of fillers, fragrance or other fluff.
Charlie's Soap is safe for HE washers, delicates, dogs, and nearly anything else you can think of.
Are you ready to try it?  Don't let me stop you from ordering some right now (tell them I sent you), but do take a moment to enter this giveaway.  If you win, great! – you'll have enough to share.
What's up for grabs?
An all-expenses paid trip to laundry heaven.  This Laundry Powder Combo Kit contains 80 loads of Laundry Powder, a handy Sprayer of All Purpose Cleaner, a Portable Emergency Stain Treater, a gallon refill of All Purpose Cleaner, and a stylish non-woven reusable Grocery Tote sporting the Charlie's Soap logo.  Retails for $51.92, and worth every penny.
How to enter
Visit the Charlie's Soap website.  Poke around the FAQ page, full of truly helpful questions and answers plus a healthy dose of good humor.
Then come back and leave a comment telling us why you need Charlie's Soap or what you'll be washing with Charlie's Soap if you win.  Be creative!
As usual, you can enter again each time you promote this giveaway:
blog it. Leave a comment with the link to your post.
facebook it. Leave a comment with your user-name.
twitter it. Leave a comment with your user-name.
become a fan of Charlie's Soap on facebook. If you're already one, that counts too.  Either way, leave a comment with your user-name to tell us.
or really amp your odds of winning by doing all of the above! Just come back to leave a comment for each separate entry.
Ready?  Set?  GO!!!